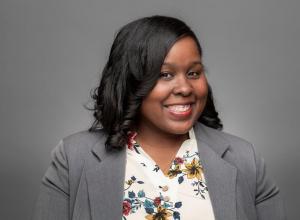 Work-Based Learning Liaison
Latrice Perry is a Work-Based Learning Liaison at Strategic Twin-Counties Partnerships (S.T.E.P.) with over ten years of experience helping businesses with Workforce Development efforts. Specializing in internships, apprenticeships and job placement, Latrice uses that experience to connect quality talent with life changing career opportunities. 
By focusing on serving others,  by utilizing her gifts, talents, learned skills and classroom experiences, Latrice has been able to put the Bachelor of Science degree in Business Management earned at North Carolina A&T State University and Master of Arts in Human Services Counseling to good use. Over the years, Latrice's strengths as an Apprenticeship Coordinator has garnered some recognition for growing and building capacity within organizations. Latrice may spend her days at S.T.E.P. assisting students and businesses, but it's the idea that every day is an opportunity to make a positive impact in someone's life that gets her up in the morning.